You have to admit, if they were shooting American League pitchers out of one of those t-shirt cannons and you ended up with Harden and the guy next to you got Sabathia, you'd be jealous.
C.C is not just a good pitcher, he's an icon. Something of a cross between Fernando Valenzuela, Flavor Flav and Abraham Lincoln. The proof:

• C.C has his own web site (No web site for Soriano, Theriot, Lee, Ramirez, Wood (his charity Bowling tournament has a site but that doesn't count), or Zambrano (most surprising). (Samardzija does have a web site which I suppose puts him on "Icon" track.)
• C.C called a press conference to change the spelling of his first name to CC, removing those pesky periods. This is serious Prince, P Diddy, Madonna territory here! Red flag, upper echelon, high grade ICON. (Note: I anticipate that in the next 1 to 2 years he'll change it again to C.C (pronounced "C point C") and I'm just trying to stay ahead of the curve.)
• With his slanted cap and massive figure, when C.C is on the mound you don't have to check the back of his jersey to know it.

It's unfair to put Harden on a pedestal next to C.C but when you have division rivals entering the second half of a pennant race each picking up a big name starting pitcher within two days of each other comparisons are going to be made.
Harden doesn't really stack up but he's no slouch either. While lacking the recognize-ability and mound presence of C.C, when Rich needs a strikeout he's manages to fire a few bullet train butter flies towards the plate and 9 times out of 10 the ump is pointing a dizzy and discombobulated batter back to his dugout. Steve Trachsel he is not.
Still, the beer makers got an Ace, we got a #2. On top of that C.C can go the distance where Harden is unlikely to go past the seventh inning the rest of this season. This makes a huge difference for the rapidly imploding Cubs Bullpen.
So does C.C tip the balance in the NL Central enough for the Miller Lites to regain the magic of the Paul Molitor/Robin Yount era of the early 80's?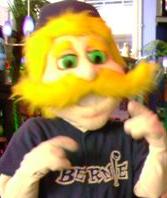 Anybody 6'7" 290 lbs is bound to tip the balance in some direction, and that is exactly the point.
C.C is a big dude. C.C probably displaces a lot of water in the bath tub. In grade school you might have called him big boned'd but that's not what you really meant.
To put it another way and quote Homer Simpson,
"The only guys who wear Hawaiian shirts are gay guys and big fat party animals."
If C.C was wearing a Hawaiian shirt you wouldn't have to guess which category he would fall under.
C.C might be able to muscle through all that excess baggage for now but nobody has ever spent any decent length of time in Wisconsin and lost weight. I can already imagine the mayhem of C.C and Prince Fielder fighting over cheese curds and sausages at the pre-game buffet. He's a dozen butter burgers away from entering Bartolo Colon/Wilson Alvarez territory and that does not bode well for a late season burst from C.C and the Bernie's.

So if C.C blazes through the Cubs lineup this evening and you're feeling a little down just imagine an even bigger boned'd C.C laboriously waddling toward the mound in September struggling to fit into his XXXXL jersey launching 55 ft balls towards the general vicinity of home plate. Advantage Cubs.